TAKE THE NEXT STEP TO ADVANCE YOUR ALTERNATIVE THERAPY CAREER
Become Diploma Qualified: Dip. FH (Forensic Healing)
Looking for a world-class, award-winning healing system that will get your clients, returning and referring? There is a science as to why some people heal and others don't. The Forensic Healing system provides answers and insights into your client's conditions for life-changing results.
Your Forensic Healing Diploma gives you the opportunity to be a part of something bigger, something greater to help women, men, and children around the world.
Forensic Healing is one of the fastest-growing natural healing systems in the world. It is regarded as the deepest, simplest and most effective healing experience to release physical pain, past trauma, mental stress and life blocks holding you back in finances and relationships.
Becoming certified is an optional process beyond studying the Forensic Healing System. Some women experience Forensic Healing for personal development and self-healing, whilst most do the course to pursue a career as an alternative therapist.
When you choose to become certified you will be able to obtain insurance in certain parts of the world. We help you establish your client base by listing your profile, without cost on our Forensic Healing Directory for the public to see you.
The Forensic Healing Diploma Course holds professional membership accreditation by the CTAA, Complementary Therapies Accredited Association
TAKE THE NEXT STEP TO ADVANCE YOUR ALTERNATIVE THERAPY CAREER
You can become diploma-qualified with Online study or through attending one of our 7-day Live training events. Forensic Healing Online can be completed anywhere in the world in your own time. All you need is a computer and a few willing volunteers for practice. There is a suggested 16-week schedule to keep you on track. Or if life is just too busy right now you can work through the course at your own pace, it's designed to fit into your schedule. You can upgrade to Live Training at any time.

Forensic Healing Live is where the magic happens! It is 7 full days of professional instruction, 1-on-1 healings, live demonstrations and a whole lot of fun! Guaranteed to be life-changing. Forensic Healing is all new information and all new healing pathways that do not exist in any other modality, that's why it's changing so many lives. For existing alternative health practitioners, Forensic Healing integrates with alternative therapy modalities you already use. This further enhances your healing skill set and gives you the confidence to get faster, longer-lasting results for your clients.

Forensic Healing can also be used for distant healings. This means you can connect with anyone in the world via phone, skype, or even without speaking with the person directly (also includes animals/environments).
The Six Pillars of The Forensic Healing Framework

Learn biofeedback methods to read the body's energy field. Find information in the Forensic Healing System Protocol to profile, collect and analyse evidence about a condition, reconstruct a client's story, identify the cause, recycle evidence and learn a range of new healing pathways.

Work with the personal energy/meridian systems of the body in great detail. New and specific analysis, detailed scan lists and targeted deep healings on the body's anatomy. Plus creative new healing pathways for the energy to flow powerfully through the body.

Address any physical condition from toxicity to allergies, hormones, hydration, neurology, DNA, genetics and structural problems such as jaw and back problems and toxic environments. You learn new and powerful healing pathways that will greatly assist in releasing physical conditions.

Includes healings around loss, self-worth, sacrifice, sabotage, relationship cords and contracts, abuse, belief systems, shock, returning soul fragments, childhood trauma and forgiveness etc… You will assist your client to release and heal very deep emotional issues on a whole new level.

Covers all spiritual aspects. This is where the real magic happens and you're ready for the life-changing healings for yourself and your clients. We cover karma, negative energies, past-life issues, contracts, curses, aura damage, possessions, attachments, lost souls, kundalini activation, power source, tree of life activation, healing words of power, awakening of gifts and many others.

The Soul module delves deep into the DNA to reverse and remove the intricate webbing and programming by the Cabal and other negative syndicates that have blocked and manipulated individual souls from living in a humane and free world.
Our World Class Training System
Each course module includes a full-colour online manual and video course. We designed the course content into a structured learning system to suit everyone's learning preferences. Each course is an interactive experience where the manual is the central resource. It directs you to all the other related components of the course like, training videos and online resources. The manual includes detailed healing information, templates, and clinic forms.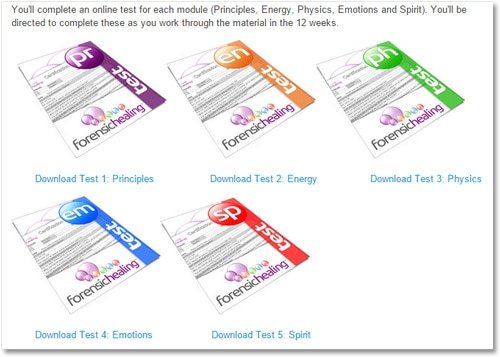 Combine Video, Theory and Practical Components To Accelerate Your Learning
Before you move through a chapter and section of the manual, there are video segments to view which cover theory and practical explanations. Marisa includes demonstrations of the subject matter so you can thoroughly understand the therapy system. Marisa adds full client sessions so you can see how to work through the system without interruption. Log into your own private online space to access the latest materials, manuals, videos, clinic template forms, reference charts and other resources for your therapy business. Want to read more on the power of Forensic Healing? Click here


Pricing Options
NEW ATTENDEES:
7-Day Live Forensic Healing Events, One-time payment $3,699 or 10 monthly payments of $399
UPGRADE:
Doing the Online Diploma Training? Upgrade to 7-Day Live $1,800 or 10 monthly payments $190. (Diploma Online Students prior to Sept 2018 purchase repeater ticket)
REPEATER:
Already attended 7-Day Live Training? Repeat for $1000 or 10 monthly payments of $105
ZOOM EVENTS (QUALIFIES AS A LIVE EVENT)
All Zoom events are recorded for playback or review. Limited numbers
Marisa will conduct the 7 Days ZOOM training the same way she conducts the Live Events. Marisa will show you the power of energy via distance and how to tap into the energetic field. There will be breakout rooms where you will use these skills to practice the healing techniques with other students. This form of healing and learning is the way of the future.
NEW ATTENDEES:
FH 7-Day Live 1-Payment Special Price $2,750 AUD or 10 easy (monthly) payments x $285.00 AUD
UPGRADE:
Already purchased FH Diploma Online? 1 Payment Special Price $850.00 AUD or 10 x easy (monthly) payments x $95 .00 AUD
REPEATER:
Already attended Live Training? 1 Payment Special Price $450.00 AUD or 10 easy (monthly) payments x $50.00 AUD (qualifies you for a Forensic Healing Diploma Certificate)
Become a Forensic Healing Practitioner
Choose Online or Live options for
Forensic Healing Essentials 1 Day Workshop/Course (core principles)
Forensic Healing Diploma 7-Day Live Training/Course
The Most Effective and Affordable Healing Pathway
Marisa spent decades desperately seeking to overcome and escape the pain, fatigue, addictions and illnesses that resulted from years of emotional, physical and sexual abuse she suffered as a child.
"I tried many different therapies and studied more than 60 courses. $310,000 later I discovered my healing gift. Through clearing my own condition, my energetic connection had grown so strong that I could read a person's body to accurately determine the cause of their condition and know how to bring relief.
After many requests from my clients to learn my methods, in 2011 I combined all of my alternative healing techniques into the Forensic Healing home-based and live training courses. For me, every cent was worthwhile because it led me to discover my purpose and my healing gift. I don't want what happened to me to happen to you, or anyone else.
I don't want anyone to live with the long-term and pain or stress that I endured… That's why becoming a Forensic Healer costs a fraction of my own investment.
My latest addition to the Forensic Healing System is the Soul Module. This module has transformed my life and freed my soul completely. I never knew I could feel so free in spite of living in a world of turmoil."
The latest Soul module delves deep into the DNA to reverse and remove the intricate webbing and programming by the Cabal and other negative syndicates that have blocked and manipulated individual souls from living in a humane and free world.
This module contains extensive lists and options to find the "unseen" programs and implants to remove systems and methods of mind control, suffering, and suppression.
It corrects the dysfunction and splitting of soul fragments and identity loss by removing the insidious implants and controls on individual souls for their ascension process, restores the connection to the organic life source energy, closes the energy portholes and gateways of the siphoning of human life force energy and reverses the chemtrail/heavy metal damage.
The healing pathways bring an awareness of the intricate details of soul damage due to chronic abuse (particularly sexual and physical abuse), including the reversal of the DNA alteration and interference.
The pathways energetically remove the unseen forces that keep soul's in the false "matrix". When the soul reversals and corrections are completed, it allows evolution for humanity and for individuals to use their own power to be a creator of their life to find freedom and happiness.
Become a Forensic Healing Practitioner
Choose Online or Live options for
Forensic Healing Essentials 1 Day Workshop/Course (core principles)
Forensic Healing Diploma 7-Day Live Training/Course
Wow Wow Wow Wow Wow
Melbourne Live. This past 8 days has changed my life forever.I walked in last Sunday alone, unsure and in pain.
I walked out today with a  radiance  I have never known.  A feeling of confidence  I never had, a knowing that I have purpose and a true sense of being connected and belonging. The issues in my shoulders that was there for 10 years is now normal my body, mind, and soul feel alive.
Thank you, Marisa, for creating such a safe space for all of us to connect and heal. And thank you to each of the women there for their part in my journey. The Melbourne live women were the most amazing women I have ever had the opportunity to connect with.
Powerful women healing one another is so empowering and is just what this world needs. Much love and gratitude, from my heart to yours.
It is time to express my sincere thanks to my beloved teacher  Marisa Russo for showing me that I am a healer and helping me find my true happiness within me.
Now she has officially endorsed me with the Diploma of Forensic Healing which I feel is the biggest achievement for my inner being, which gives me confidence that I am capable of helping myself and others who need help emotionally and physically.
I feel grateful to be in the nest of these wonderful healers of this group who is empowering each other and serving this mankind. I am so honoured to be a part of this journey. Having said that I sincerely thank my family, friends & well wishers who have been my volunteers for my case studies.
They all have believed in me and helped me achieve my goal. I have received wonderful feedback from them. I know this is an ongoing journey but this diploma is my first milestone in healing.
I  feel blessed to have just shared a magical week with Marisa and all of my soul sisters with the most beautiful and loving hearts. The planets were aligning for all of us at Live. The planetary influence of Venus which represents the divine feminine created a powerful vortex of energy.  We were cradled in a protective bubble of unconditional love and acceptance.
Marisa worked her magic like an alchemist to release deep energetic wounds.  Warrior women let go of the past with ease and grace with little or no resistance. When the masks and facades fall away, there is nowhere to hide from the light and truth of who you are. The walls that we have built to protect ourselves crumble to dust.
Soul Ascension Activation is out of this world as you mentioned in your post-Jennifer because we are lifting the veils between the seen and unseen realms. Rainbow light is streaming down so we can receive divine downloads and build rainbow bridges to other dimensions.
As we all integrate, recalibrate and come back to earth we have a renewed sense of purpose and a deeper understanding of universal laws and the cosmos so we can all soar to new spiritual heights. Namaste.
I thought I tried it all. The best doctors, the healers, the psychologists, the system… To no avail! (For 5 yrs an ongoing rollercoaster.) One session with Marisa is all it took. My body issues were then back to normal. Magic I thought…
I read the book firstly, I connected for the first time, I went to the workshop. It all made sense… These were my first steps to healing my abnormal bloats which would stop me from leaving the house (just one of the issues mind you). I met amazing woman and continued on my journey with 7 day live. I booked to heal myself. That was my initial intention.
A forensic healer I have become. The most incredible woman in the world I have met. Living laughing and finding joy again. My soul is free and alive. This I wish for you all.
Gratitude and much love I have for Marisa, as yes, it is Marisa that has diligently done the work for us..now all we have to do is do is follow this amazing forensic healing protocol. It's so easy, all you have to do is believe in yourself and allow the universe to gently guide you.
Beautiful Women, If you are on the fence about committing to a series of monthly payments for FH LIVE & ONLINE Diploma's… Or forking out MORE. I feel deeply humbled and beyond grateful for this priceless immeasurable gift.  Has it been easy?  No.
Getting  OFF the matrix and away from continual life-threatening sabotage has been a daily awareness. But the alternative is way worse. Has it been life-changing, freeing and self-empowering,' abundantly worth it? YES. YES. YES!!!
Forensic Healing gets me up in the morning and it used to get me through my day until my life started to show up differently around me (better, kinder, clearer, happier…). I share it with everyone (seriously).
I send the email offers for the course to every person who needs it (everyone). Even if they don't choose to do it, my conscience is clear because I know they have the information for self-transformation at their fingertips should they ever need it… Because timing is everything. 🙂
If you took the knowledge of FH away from me now, you'd be taking something more important to me than a limb (lol).










Complete your Diploma Certification:

Students can apply Forensic Healing on friends, family and clients at their own discretion informing them they are not yet qualified and the sessions are for their case studies. There are options for students to obtain student insurance from IICT if they prefer. Another option is to advise their clients and volunteers they are not yet qualified however it is reasonable to ask for donations for their time (qualify $ amount).
These options should satisfy most countries criteria as to not render liabilities to the therapist, however, each country is different, with variations in regulations. It is up to the therapist to seek professional advice. You can read the full requirements here. The Forensic Healing DIPLOMA Course holds professional membership accreditation by the CTAA, Complementary Therapies Accredited Association
Repeating the 7-Day Live training is a different experience to attending for the first time. Every workshop is unique and allows you to develop your healing intuition whilst going deeper into your own soul healing. When you register as a Repeater for an FH 7 Day Live event is that you automatically receive the Diploma Qualification and there is no Diploma Fee. To find an event near you go to our Events Page.
Payment for the Diploma certification processing fee of $199 is done prior to submitting your case studies. Order here
If you paid upfront for the Diploma training then we mail the certificate immediately after reviewing your case studies. Diploma Certificates are only sent once all course fees are up to date.
Please read and follow our advertising and policy guidelines
Alternative Therapy Business Insurance
Forensic Healing is a fully accredited and approved training provider with our partner IICT which allows Diploma certified Forensic Healers to obtain insurance in the countries listed on the right…
Your Diploma certification with the Forensic Healing System allows you to obtain an insurance policy that covers damages and legal expenses arising from personal injury to a third party, or damage to their property, arising from your business or occupation. As a Forensic Healer, you can access professional affiliation with the IICT as well as a discounted practitioner insurance policy. The application process is prompt. Visit IICT.